Can't take a break from holiday gear
Christmas decoration, treats and gifts are in stores immediately after Halloween. Sometimes even earlier. Is this right?
When should stores start selling Christmas gear?
Stores have surely crossed a line. The commercialization of every holiday, every day is sickening. While shopping for Halloween gear you will likely come across Christmas decor near the end of October. Then, the day after Halloween, Christmas marketing is in full gear. At department stores employees wear festive shirts early November. Isle after isle after isle: full of Christmas decoration and treats.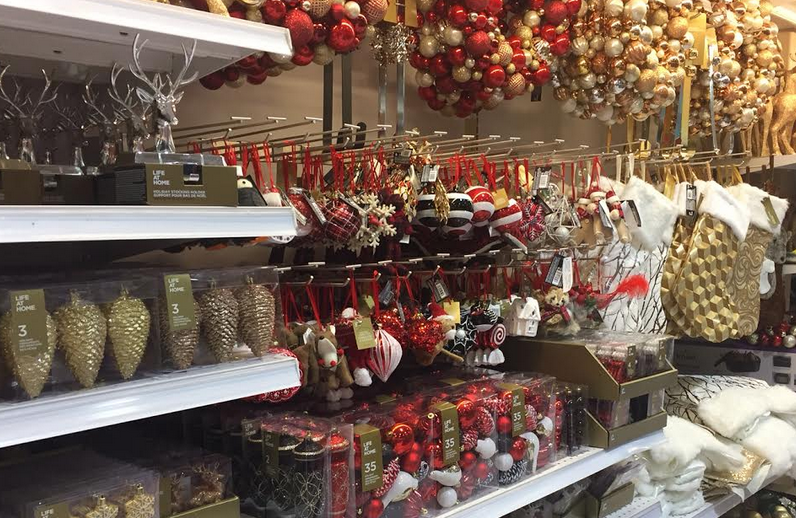 This picture was taken on November 3rd.
After Christmas we get a break for a few weeks then everything all of a sudden is about Easter. In January! Then after Easter it's end-of-school deals and Canada Day then back-to-school madness then immediately after that it's Halloween again.
Corportae greed makes special less special.
Share your holiday story, idea or comments
What do you think about the constant promotion of holiday gear?
Comments
Posted by Stephanie :
ALL HOLIDAYS ARE OVER-COMMERCIALIZED, because of this I thank all the store and business owners because I don't have to waste any money buying anything cause no holiday is seen as special. It's nothing but cash grabs watch the prices go up and up as the holiday nears than.... wait for it.. a half price cut when the day is upon us.

Posted by Debbie:
Christmas items should be mid to late November. If this is about stores selling merchandise, and making a profit, I have to ask - where am I, the customer, going to get more money to shop? I only have $X.XX to spend at Christmas. Just because you have the product out early, doesn't mean I have more money to spend!

Posted by Respect the past as well as the future:
I was raised in a business but we also took the time to respect Remembrance Day. We did not put Christmas shopping before the people who died so that we can have the peaceful country we have today - even 150 years later! Thank those young people who died at Vimy Ridge to make Canada for the future generations. It is only one day for heaven sake!

Posted by Heather:
I agree that stores have to merchandise and make money, but at least wait until Remembrance day is over. Coming from a family of Veterans-- that is all I ask!!!

Posted by Eli:
Yeah that's nice but that's how stores make money. What am I going to do? Hide my merchandize?

Posted by Jilian:
I even saw christmas decor out before halloween was over!!!